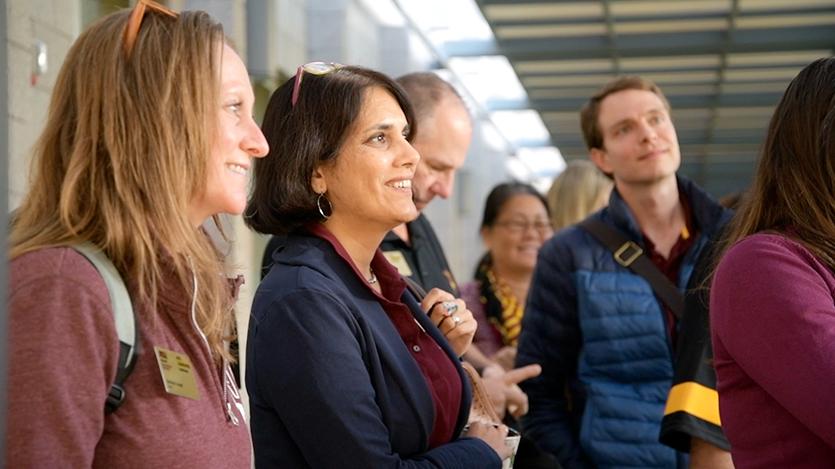 ASU Leadership Institute
To cultivate, connect and engage innovative community leaders
What is the ASU Leadership Institute?
Each year, the ASU Alumni Association accepts a cohort of up-and-coming and current leaders for a professional and personal leadership development program. This structured nine-month program takes an in-depth look at the university and its institutional objectives to demonstrate excellence, access and impact, and the importance of higher education. 
Applications for the ASU Leadership Institute Class 7 will become available in January for the 2024-2025 school program.
During ASU Innovation Days, participants meet ASU renowned professors, practitioners and executive leaders and learn about how higher education, business and community can succeed together. The ASU Leadership Institute works to enlighten, inspire and transform leaders from diverse professions and communities.
The program is specially designed to help participants develop and understand critical leadership skills. The cohort will participate in a leadership assessment tool that will provide in-depth analysis and insights that identify key strengths to further develop and areas to enhance. Each ASU Innovation Day will feature a leadership panel or program showcasing top educators and experts in many fields, including business, consulting, nonprofit management, ethics, media and military service.
The institute aims to inspire leaders to innovate and strengthen their community. After completing the program, leaders will be equipped to serve on ASU boards, mentor students, create scholarships and serve as community ambassadors.
Questions about the ASU Leadership Institute? Contact Ellyse Crow, Director of Affinity Programs at 480-965-2464.
The ASU Alumni Association will be accepting applications for the ASU Leadership Institute Class 7 in January 2024 for the 2024-2025 school year.
Application to the ASU Leadership Institute is open to all degreed ASU alumni the private, public and nonprofit who have demonstrated community involvement through participation in at least two organizations and who were involved as a student in organizations and clubs on campus or are currently involved with ASU. The application for the upcoming leadership class opens every January.
The written application is weighted equally as the candidate interview. It is important that candidates devote adequate time to the written application. Incomplete applications will not be reviewed. To complete the written application process, you must submit the online application and provide the following:
Your resume.
A personal statement of 300–500 words.
One letter of recommendation from your current employer.
A nonrefundable application fee of $50.
The program fee for the ASU Leadership Institute is $1,850 and is due by Aug. 31. Participants can avail of an early bird fee price of $1,600 if paid in full by Aug. 15. The program fee covers full participation in all ASU Innovation Days, all materials, and meals during the Institute.
A select number of candidates will be interviewed for approximately 30 minutes each by an ASU Leadership Institute selection panel. Applications will be scored by how well candidates demonstrate leadership competencies during the interview and the written application.
Applications for Class 6 have closed.
The Class 7 program runs from August 2024 to May 2025, beginning with an orientation, continuing with one full program day each month and concluding with a graduation ceremony. In addition to attending the program, participants will be required to complete a team-based community impact project.
The requirements must be met to qualify for successful completion of the program. Attendance is mandatory at orientation, the first ASU Innovation Day and graduation (no exceptions). If you cannot commit to the schedule, please consider applying at a time when you can commit to the time requirements.
Requirements:
Attendance on all program days. One excused absence is allowed to meet graduation requirements.
Participation in an ASU/Sun Devil Impact Project. 
Attendance at orientation.
Attendance at graduation.
One-time participation in a panel.
The curriculum elements of the ASU Leadership Institute include Innovation Days, social events and the opportunity to participate in a panel.
ASU Innovation Days: Once a month, from August to May, participants spend a day focusing on critical components of higher education and ASU. Each ASU Innovation Day features guest speakers who are experts in their respective fields. A tour of resources on ASU campuses is also included.

Social events: Social events include opportunities to interact with your institute classmates through the ASU/Sun Devil Impact Project, opportunities to attend ASU athletic events and a leadership-style exercise.

Panel element: Participants will be asked to share their insights with current ASU students, members of future ASU Leadership Institute participants of the program, the ASU Alumni Association Board of Directors and National Alumni Council, or the Trustees of ASU. This is a one-time commitment.
Date
Wednesday, August 23, 2023 (Half day orientation)
Friday, September 15, 2023
Friday, October 13, 2023
Friday, November 3, 2023
Friday, December 8, 2023
Friday, January 19, 2024
Friday, February 23, 2024
Friday, March 15, 2024
Friday, April 12, 2024
Friday, May 17, 2024 (Graduation)